Ethnological presentation
Ethnological presentation of the farm housing culture in the Alps in the 19th century with an exhibition and permanent exhibition about the life and work of Josip Vandot, a writer of books for young people, the most popular of which is Kekec.
More:
• permanent exhibition about writer Josip Vandot
• Occasional exhibitions (below)
• News and events (bellow)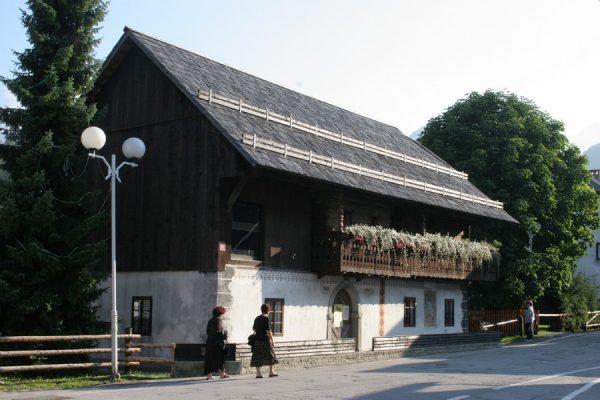 Liznjek Homestead was built in the second half of the 17th century, with a lot of farm baroque characteristics from the 18th and the beginning of the 19th century. Its design was one of the most advanced types of architecture in our country, and today it is seen mainly as a prototype of an authentic Slovenian Alpine house. It has a typical big farm building, dating from 1781. The facade of the house is decorated by a fresco, sewn edges and a tassel ornament, a stone semi-circular portal and a wooden balcony – gank. The ground floor of the house is built of stone, there is a black kitchen, hall and living room closet and the central living room – hiša – with a wooden ceiling, a carved rosette and year 1781 on the bearing beam. Rich furnishing from the 19th century (painted wooden chests, wall cabinets, clocks, beds, cradles, dishes, tools, clothes, typical of the Upper Sava valley) authentically depict a former home and life or a rich farm family. Various tools are displayed in the attic. All the equipment for various chores and crafts can be seen in one of the small rooms. A collection of farm carts, devices and tools is displayed in the farm building on the hayloft and on the floor for threshing grain harvest. Small museum collections can be housed below the hayloft and the threshing floor, in the former sheep and goat house, where Revived Roots by Stanko Košir is exhibited.