Stara Sava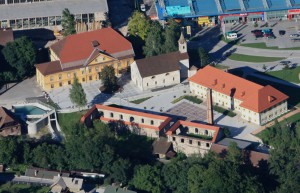 Stara Sava is characterised by extremely rich ironmaking tradition. It has all the essential elements of a former iron foundry settlement: Ruard Manor from the 16th century, Church of St. Mary's Assumption from the beginning of the 17th century, Kasarna with workers' flats from the end of the 18th century, a blast furnace with a puddling mill, storage for charcoal and a mill from the 19th century. Today the area serves for museum, culture and tourist activities.
In the courtyard of former Koren house you can play the bells or try your luck in The Horseshoe of Fortune. The following can be arranged for groups (at least 10 people and to be booked in advance):
Ironmaking games such as throwing of horseshoes, paving with bricks, walking with stilts, knocking of buckets, Changes in time, and others,
ethnological workshops Making a worker's cup of coffee, which you can taste, and Identification of museum objects for little children,
creative workshops Drawing with charcoal, Miner's lamp, Making candles in the shape of a blast furnace, Making use of wire, Sundial.

ul> You can experience Stara Sava by joining organised guiding and finish the visit by a worker's snack, served in Kolpern. The culinary experience is completed by showing a film about the former ironworks Žar jekla – SM jeklarna (The Glow of Steel), Jeseniški plavži (Jesenice blast furnaces) , Zgodovina železarstva (History of Ironmaking) or life of workers and the first nurse (Angela Boškin – Poti k ljudem (Paths to people)). You can also join a guided tour along the old mining path to Planina pod Golico.
Parada orkestrov bo potekala od naselja Sonček mimo Spara in Kolperna na trg Stare Save. Ob tej priložnosti vabimo tudi na ogled naše stalne etnološke zbirke v Kasarni na Stari Savi, ki bo v soboto, 11. maja odprta med 15. in 17. uro. Vabljeni!
read more