Ruard manor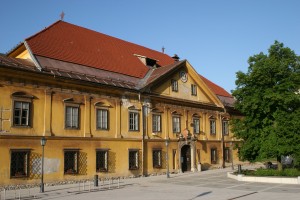 In 1538 Italian family Bucelleni moved from Planina pod Golico to Stara Sava. They built a manor and a foundry, which earned a lot of money in a short period of time. In 1686 the Bucellenis became counts. Valentin Ruard, a Belgian merchant, bought the plant and the manor in 1766. Three generations of the Ruards lived in the manor and in 1871 it became the property of the Carniolan Industrial Company. Since 1954 the manor has been housing a museum. It had been the Jesenice Ironworks Technical Museum until 1990 and since 1991 it has been the registered office of Gornjesavski muzej Jesenice. Today it houses a permanent ironmaking and mining collection.
Museum in Ruard Manor is CLOSED due the renovation. Thank you for understanding.
individual
group
odrasli
2,50 €
2,00 €
children
2,00 €
1,50 €
family ticket
6,00 €
pedagogical workshops
2,00-3,00 €

DDV ni obračunan po 1. odstavku 94. člena ZDDV.
CONTACT
C. Franceta Prešerna 45
4270 Jesenice
+386 4 583 35 00
Sorry, this entry is only available in Slovenian.
read more