History of mountaineering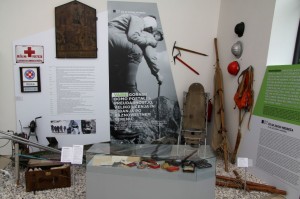 Triglav Museum Collection has been opened in Mojstrana since 1984. Following several-year endeavours, a permanent Slovenian Alpine Museum exhibition was opened in a new building in 2010. It shows the development of Slovenian Alpine, mountaineering, mountain climbing and mountain rescue history, interwoven with nature protection and education contents. With the help of audio-visual devices and state-of-the-art information technology the interactive exhibition is experienced as a CLIMB TO A MOUNTAIN, divided into 11 groups of content. The visit starts with introductory film SVETLOBE GORA (LIGHTS OF MOUNTAINS).
Visitors can participate in games and competitions or learn about mountaineering, history … Activities are rewarded by collecting stamps along the way to the top and there is a prize at the top. The exhibition is partly adapted to the blind and visually impaired.
The permanent exhibition is complemented by a rich programme of educational workshops, occasional exhibitions and numerous events.  The Museum houses also aTriglavNational Parkinformation point.
1.6. – 14.9.

9.00 – 19.00

15.9. – 31.5.

9.00 – 17.00

 Last entry: half hour before closing

Zaprto:

1. 1. in 1. 11

For groups also opened outside normal opening hours.
individual
group
adults
6,00 €
5,00 €
children
3,60 €
3,00 €
family ticket
13,00 €
DDV ni obračunan po 1. odstavku 94. člena ZDDV.