Museum Rateče and Jervah's woodworking collection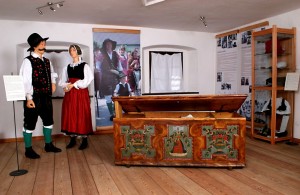 A permanent ethnological collection was set up in 2006. There is a black kitchen and storage room on the ground floor, and a former small room houses an exhibition of the local history. Museum workshops are organised for children, members of Tourist Society Rateče meet there to revive traditional handicrafts by embroidering tablecloths. There is also an information point and a souvenir shop. The Rateče folk costume – everyday and festive – is presented in the living room and in the small room. This is one of the rare costumes in Slovenia, still kept and occasionally worn by local people. The attic is equipped for showing films about ethnology or Rateče, and the visitors can try "Planica ski jumps". A new Jervah's woodworking collection is exhibited in the form of an open depot.
The INFO POINT in Kajžnik house for the Museum Rateče and Jervah's woodworking collection is a part of international project SELECTION OF COLLECTIONS (Cultural Heritage between the Alps and Karst), cross-border cooperation programme Slovenia-Italy 2007-2013.
Open by prior arrangement.

Groups please book your visit 3 days in advance on telephone number

+386 4 587 61 48
posamezno
skupine
odrasli
2,50 €
1,70 €
otroci
2,00 €
1,50 €
družinska vstopnica
6,00 €
pedagoške delavnice
2,00 €

DDV ni obračunan po 1. odstavku 94. člena ZDDV.
KONTAKT
Rateče 43
4283 Rateče – Planica
+386 4 587 61 48