Ethnological collection in Liznjek house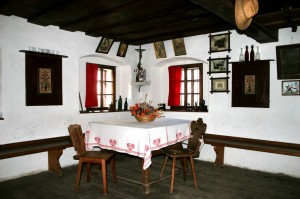 Rich furnishing from the 19th century (painted wooden chests, wall cabinets, clocks, beds, cradles, dishes, tools, clothes, typical of the Upper Sava valley) authentically depict a former home and life or a rich farm family. Various tools are displayed in the attic. All the equipment for various chores and crafts can be seen in one of the small rooms. In the basement there is a permanent exhibition dedicated to Josip Vandot, a poet and a writer for older children, and a gallery with occasional art and museum exhibitions. A collection of farm carts, devices and tools is displayed in the farm building on the hayloft and on the floor for threshing grain harvest. There is also a wedding hall. Small museum collections can be housed below the hayloft and the threshing floor, in the former sheep and goat house, where Revived Roots by Stanko Košir is exhibited.
2. May to 30. September

Tuesday – Sunday              11.00-19.00

1. October to 30. April

Tuesday – Sunday              10.00 – 16.00

Closed: 1.1., 1.5., 1. 11. and 25. 12.

For groups also opened outside normal opening hours.
Single
Group
Adults
2,50 €
2,00 €
Children
1,70 €
1,50 €
Family ticket
6,00 €
workshops
2,00 €
DDV ni obračunan po 1. odstavku 94. člena ZDDV.
CONTACT
Borovška cesta 63
4280 Kranjska Gora
+386 4 588 19 99